Welcome to Clear Creek Community Theatre's fifty-fourth season. We are proud to bring you a diverse collection of Comedies, Dramas and Musicals. Our unique 7-show Season passes are now on sale to give you the most flexible entertainment value in the Bay Area. Browse our season and mark your calendars – we'll see you at the theatre!
---
Auditions July 16 & 17 at 7:00 PM
Created by Phillip George & David Lowenstein
This mod musical brings back the beautiful birds and smashing sounds that made England swing in the '60s. With its irresistible blend of hip-swiveling hits, eye-popping fashions and outrageous dance moves, SHOUT! The Mod Musical takes audiences back to the music, style and freedom of the 1960s. Created by Phillip George and David Lowenstein, SHOUT! features terrific new arrangements of such classic tunes as "To Sir with Love," "Downtown," "Son of a Preacher Man" and "Goldfinger."
The review follows five groovy gals as they come of age during those glorious days that made England swing. Traveling in time from 1960 to 1970, SHOUT! chronicles the dawning liberation of women, from the rise of Dusty Springfield, Petula Clark and Cilla Black as independent women with major careers, to their American counterparts, redefining themselves in the face of changing attitudes about gender. With a shimmy and shake, the songs are tied together by hilarious sound bites from the period – from '60s advertisements to letters answered by an advice columnist who thinks that every problem can be solved with a "fetching new hair style and a new shade of lipstick."
---
Auditions Aug 26 & 27 at 7:00P.M.
by Jeffrey Hatcher
In 1896, the Winter Carnival is in full swing, but St. Paul's wealthiest man has lost his head—literally. A young man disappears just before his wedding, and his fiancée has already given back her wedding dress. When a gruesome discovery is made in the Ice Palace, there's only one man for the job. Sherlock Holmes is summoned to solve a mystery that's hardly elementary. With the help of trusty Watson and Irish barkeep Shadwell Rafferty, it's up to Holmes to track a cold-blooded killer from the icy streets of St. Paul to the frozen Mississippi River.
---
Auditions Oct.7 & 8 at 7:00PM
Adapted by Mountain Community Theater from the novel by Valentine Davies.
By chance, Kris Kringle, an old man in a retirement home, gets a job working as Santa for Macy's. Kris unleashes waves of good will with Macy's customers and all of New York City, but some think he's crazy and should be locked up. Especially at stake is one little girl's belief in Santa. In a dramatic decision, the court confirms Kris as the true Santa, allowing Susan and countless other children to experience the joy of childhood fantasy Based upon the Twentieth Century Fox motion picture Miracle on 34th Street.
---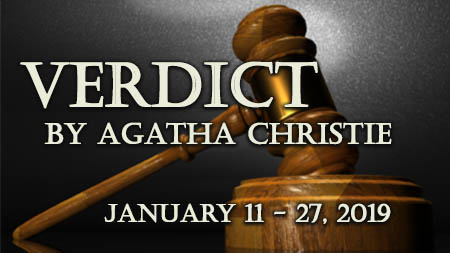 Auditions November 18 & 19 at 7:00PM
by Agatha Christie
A popular college professor with an invalid wife and an attractive live-in cousin comes under police suspicion when his spouse dies under mysterious circumstances. The question is not who did it, but who is going to pay for the crime? One of only a few Christie plays written directly for the stage and not adapted from an underlying story, Verdict opened in the West End at the Strand Theatre in May 1958.
---
Auditions January 6 &7 at 7:00P.M
by Yasmina Reza Translated by Christopher Hampton
Winner of the 2009 Tony Award for Best Play, God of Carnage relates an evening in the lives of two couples, residents of a tony Brooklyn neighborhood, who meet to discuss a playground incident. Alan and Annette's son hit Michael and Veronica's son in the face with a stick, resulting in two broken teeth. The four of them agree to discuss the incident civilly, but, as the night wears on and drinks are imbibed, the polite veneer breaks down.
February 22 –March 10, 2019
---
NEW Audition Dates:
Feb. 17 & 18 at 7:00 PM
By Ken Ludwig
In this hilarious comedy, two English Shakespearean actors, find themselves down on their luck in America. When they hear that an old lady in York, PA is about to die and leave her fortune to her two long lost English nephews, they resolve to pass themselves off as her beloved relatives and get the cash. The trouble is, when they get to York, they find out that the relatives aren't nephews, but nieces! Romantic entanglements abound, especially when Leo falls head-over-petticoat in love with the old lady's vivacious niece, Meg, who's engaged to the local minister.
---
Auditions: March 17 & 18 at 7:00 PM
Adapted by Patrick Barlow from the novel by John Buchan from the movie by Alfred Hitchcock. Licensed by ITV Global Entertainment Limited and an original concept by Simon Corble and Nobby Dimon.
A comedy thriller packed with nonstop laughs and over 150 eccentric characters (played by four actors) the play is about a man with an ordinary life who meets a woman with a strong accent who says she's a spy. When he takes her home, she is murdered. Soon, a mysterious organization called "The 39 Steps" is hot on the man's trail in a nationwide manhunt that climaxes in a death-defying finale.
---
WEEKEND SHOW TIMES
Fridays & Saturdays 8:00P.M.
Sunday Matinees 2:30P.M.