The Artistic Committee of Clear Creek Community Theatre is now accepting proposals from directors for our 2019 -2020 season. We are eager to build on our reputation for engaging, creative and compelling theatre. We will present seven (7) regular season productions from September 2019 through June 2020 and are seeking submissions for both plays (comedies, dramas, mysteries, new works) and musicals. Clear Creek Community Theatre is a non-profit all volunteer organization, founded in 1964, proudly presenting quality performances in the Bay area and drawing directors, actors and audience from the entire greater Houston area.
If you'd like to be considered to direct, but do not have a show in mind, there is an option to submit for directing only. Priority will be given to directors who submit at least one play with their submission.
The submissions deadline is January 13th, 2019. Late submissions will not be considered. We are looking forward to hearing from you. If you have questions please email artistic committee chair Bernie Sandner.
Please click below to continue.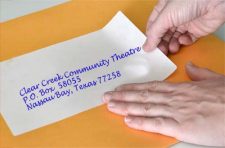 If you prefer to submit by mail:
Guidelines
In your submission(s) we request the following:
A resume of your directorial and other theatrical experience

A proposal that features:

Your concept/vision for a production, e.g. period, style, etc.

Ideas on production elements, i.e. set, costumes, lighting, sound or other special effects (we do not require actual set drawings or lighting plots)

Any other items

Two (2) copies of each script submitted.

You may submit proposals for up to 3 shows.
Mail submissions to:
Clear Creek Community Theatre
P.O. Box 58055
Nassau Bay, Texas 77258
---
For your Information
Clear Creek Community Theatre offers an intimate, flexible and unique performance space. The stage dimensions are 33 x 22.5 for a total playing area of 742.5 square feet. If you have not seen the stage, we recommend you make a visit to help yourself to visualize a production. The stage floor is raised 6 inches off the main audience floor and starts approximately 6 feet from the front row creating a great intimate theatre experience.. Site lines are excellent with 110 seats arranged in multi-level rows. There is wing space either side 8.5 feet in width stage left and 6 feet wide stage right. On the technical side, we run state-of-the-art computerized lighting and sound. Permanent lighting includes many new lighting fixtures, 50 DMX dimmers and up to 512 channels of control. There are 6 permanent microphones for sound reinforcement and the same sound control software that can be found in many of London's West End theatres. CCCT presents 7 full stage productions and 2 youth apprentice programs annually, as well as a summer Shakespeare production. Performances are Friday and Saturday at 8 PM, Sunday at 2:30 PM over a 3 weekend run. Also, we have our own set construction area, storage, costumes, props and many stock set pieces.