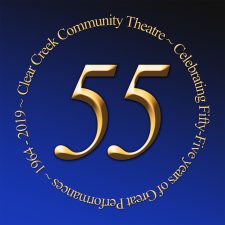 Welcome to Clear Creek Community Theatre's fifty-fifth season. We are proud to bring you a diverse collection of Comedies, Dramas and Musicals. Our unique 7-show Season passes are now on sale to give you the most flexible entertainment value in the Bay Area. Browse our season and mark your calendars – we'll see you at the theatre!
BUY YOUR SEASON PASS NOW
---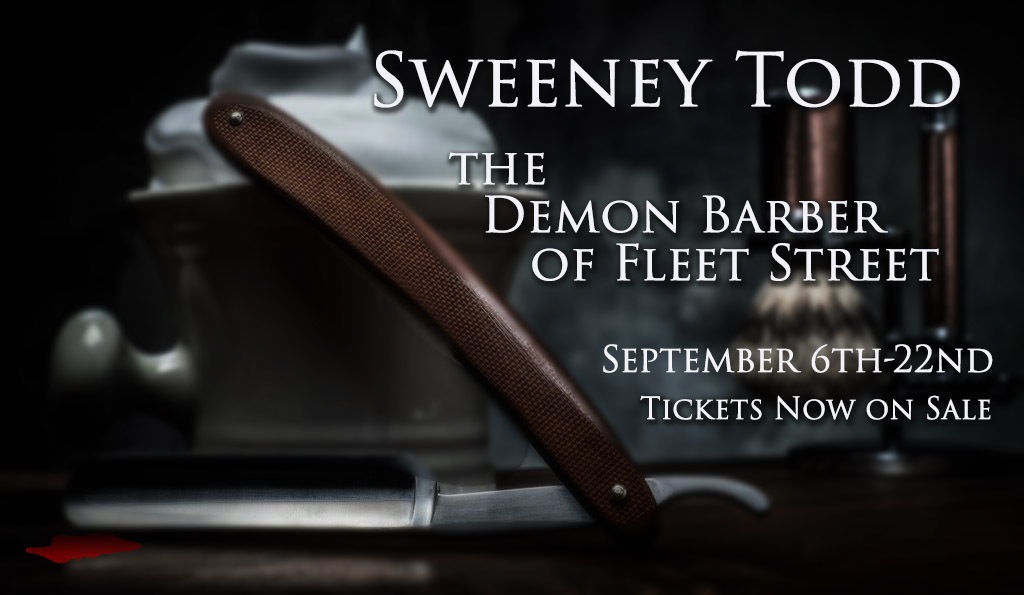 Auditions June 30 & July 1 at 7:00 P.M.
Attend the dark, witty, Tony Award-winning tale of love, murder and revenge set against the backdrop of 19th century London. An infamous story, Sweeney Todd, unjustly exiled, returns to nineteenth century London, seeking vengeance against the lecherous judge who framed him and ravaged his young wife.
---

Auditions Aug 18 & 19 at 7:00P.M.
In the heart of London, behind the impassive facade of a windowless house, some of Europe's most powerful men gather to play a game. The game is murder, and this is The Suicide Club. But the club has a new member, Sherlock Holmes: brilliant, brooding, the greatest detective in the world. Why does Holmes wish to die? Can his friend Dr. Watson save him? Or doesn't Holmes want to be saved?
---

Auditions Oct.6 & 7at 7:00P.M.
It's four days before Christmas in the tiny town of Tinsel, Texas, a colorful parade of eccentric guests arrive at the Snowflake Inn and deck the halls with holiday hilarity. Trina, the harried yet upbeat innkeeper of this B&B, has more than she can handle coping with these nuttier-than-a-fruitcake lodgers. More fun than a fast ride in a one-horse open sleigh!
---

Auditions November 10 & 11 at 7:00P.M.
The Council Chambers at Chimneys, the Brent family estate, holds a dark and intriguing secret. A young drifter finds more than he bargained for when he agrees to deliver a parcel to this English country manor. Little did Anthony Cade suspect that a simple errand on behalf of a friend would make him the centerpiece of a murderous international conspiracy. A sinister plot rife with diamonds, oil leases, exiled royalty, an elusive master criminal and the combined forces of Scotland Yard and the French Surete.
---

Auditions December 15 & 16 at 7:00P.M.
One of the wittiest comedies written, Oscar Wilde's play is a timeless delight. Jack Worthing is a fashionable young man who lives in the country with his ward, Cecily Cardew. He has invented a rakish brother named Ernest whose supposed exploits give Jack an excuse to travel to London periodically. Jack is in love with Gwendolen, the cousin of his friend Algernon. Gwendolen, who thinks Jack's name is Ernest, returns his love, but her mother, objects to their marriage because Jack is an orphan who was found in a handbag at Victoria Station. Algernon has been impersonating Ernest in order to woo Cecily, who has always been in love with the imaginary rogue Ernest.
---

Auditions January 26 & 27 at 7:00P.M.
Warm-hearted, irreverent, zany and brilliantly imaginative, Crimes of the Heart is the story of the three Magrath sisters have gathered at their family home in Mississippi to await news of their grandfather. Lenny, unmarried at 30 and facing diminishing prospects, Meg, who is back after a failed singing career on the West Coast and Babe, the youngest who is out on bail after having shot her husband in the stomach.. It is the story of escaping the past and seizing the future, this Pulitzer prize winning script will touch your heart and make you laugh.
---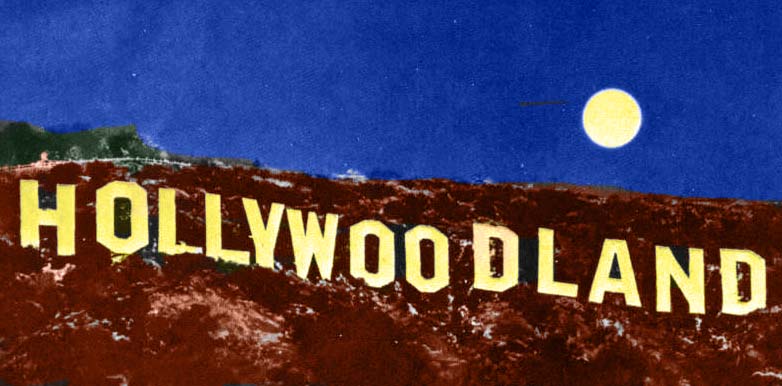 Moonlight & Magnolias
Auditions March 29 & 30 at 7:00P.M.
1939 Hollywood is abuzz. Legendary producer David O. Selznick has shut down production of his new epic Gone with the Wind. The screenplay , you see, just doesn't work. So what's an all- powerful movie mogul to do? Selznick sends a car for famed screenwriter Ben Hecht and pull formidable director Victor Fleming from the set of The Wizard of Oz. Summoning both to his office, he locks the doors, closes the shades, and on a diet of bananas and peanuts, the three men labor for 5 days to create a screenplay that will become one of the most successful films of the 20th century. A delightful comedy with plenty of insider fun and games.