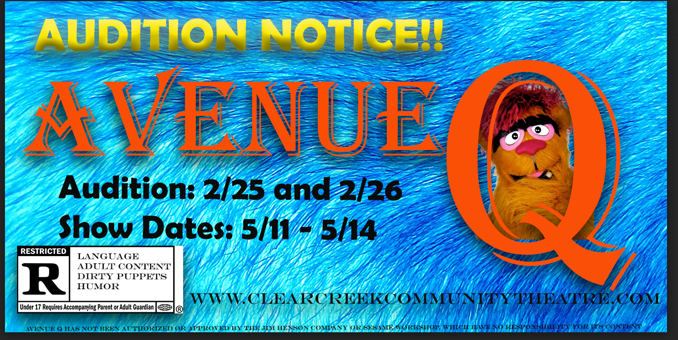 Cast: 4-5 female, 4-6 men, plus stage managers, set builders, costumers, light/sound tech, any volunteers.
Auditions: Sun. Feb 26th at 7 pm and Mon. Feb 27th at 6:30pm.
Location: Kemah Boardwalk Event Center (Above Flying Dutchman)
Auditionees to prepare 32 bars of song in style of show.  Cold readings and show song selections will be provided.
**Please note this production is Rated R and all cast members must be 18 years or older.
Directed for CCCT by Keith Herrmann
Premise: The Tony Award winning musical, Avenue Q (2004 Best Musical, Best Book, Best Original Score). Set on a fictional street in an "outer-outer borough" of New York City, hilarity ensues when a diverse neighborhood of humans and monsters seek their purpose while navigating the challenges life throws their way.
Characters: Majority of the characters are puppets and therefore gender is often flexible for the characters. All genders and ethnicities are encouraged to audition.  CCCT is an equal opportunity organization.
Performances are 5 shows:
Thurs. May 11th at 8 pm
Fri. May 12th at 8 pm
Sat. May 13th at 2 pm and 8 pm
Sun. May 14th at 2 pm
Performance Location: The Bayou Theater 2700 Bay Area Blvd, Houston, TX 77058Questions? Email Keith at Kherrmann@clearcreekcommunitytheatre.com or text 832-600-4222