Clear Creek Community Theatre is delighted to bring Oscar Wilde's The Importance of Being Earnest to the CCCT stage. This comedic masterpiece was written by one of the greatest writers in the English language, and is filled with dry wit, verbal fireworks and skewering social commentary.
One of the cleverest comedies by one of the greatest writers in the English language, The Importance of Being Earnest introduces us to Jack and Algernon, two charming bachelors who are each living a double life, aided by a fictional alter ego called "Ernest." But when they fall truly in love with a pair of proper young women, will they be able to bring an end to the charade and convince the formidable Lady Bracknell that they are suitable candidates for marriage? After all, "the one charm about marriage is that it makes a life of deception absolutely necessary for both parties."
The Importance of Being Earnest opens on Valentine's Day, February 14th at 8:00PM and runs through March 1st. Performances are each weekend at 8:00PM on Fridays and Saturdays and 2:30PM on Sundays. And don't forget, our BYOB policy allows you to bring your own wine and beer. For a modest corkage fee, we'll open the bottles and supply two glasses or frosty mugs. So grab your friends, grab a bottle of your favorite beverage and have a great night out! Call 281-335-5228 for reservations or buy tickets online at our virtual box office.

If You Love Community Theatre, visit CCCT's YouTube Channel. You'll find directors talking about their shows, actors discussing characters, & skilled "behind the scenes" artists demonstrating their craft.
---

CCCT has a very active Facebook community. You'll meet many of our volutneers, and see lots of tidbits, photos and videos about our productions, actors and the theatre. Click on the Facebook badge to visit!
---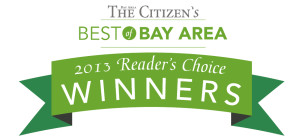 CCCT has been named the Bay Area's "Best Community Theater" by readers of the Bay Area Citizen for five years in a row! Many thanks to our patrons and readers of the Bay Area Citizen for your continued support.
---