Chimneys plunges the play-goer deep into Agatha Christie's world of old country houses, murder, spies, mistaken identity, stolen diamonds, master thieves, deposed royalty, and a dash of romance.
Agatha Christie's "Secret of Chimneys" revolves around Anthony Cade, a young drifter who seems to have found more trouble than he bargained for when he agrees to deliver a parcel to an English country estate known as Chimneys.
The Council Chambers at Chimneys, the Brent family estate, holds a dark and intriguing secret and someone will stop at nothing to prevent the monarchy being restored in faraway Herzoslovakia.

A young drifter finds more than he bargained for when he agrees to deliver a parcel to an English country estate. Little did Anthony Cade suspect that a simple errand on behalf of a friend would make him the centrepiece of a murderous international conspiracy. A sinister plot rife with diamonds, oil conessions, exiled royalty, an elusive master criminal and the combined forces of Scotland Yard and the French Surete.
Performances are held January 10th – 26nd at 8:00PM on Friday & Saturday nights with matinees on Saturday & Sundays at 2:30PM.
Remember, our BYOB policy allows you to bring your own wine and beer. For a modest corkage fee, we'll open the bottles and supply two glasses or frosty mugs. So grab your friends, grab a bottle of bubbly and have a great night out! Call 281-335-5228 for reservations or buy tickets online at our virtual box office.

If You Love Community Theatre, visit CCCT's YouTube Channel. You'll find directors talking about their shows, actors discussing characters, & skilled "behind the scenes" artists demonstrating their craft.
---

CCCT has a very active Facebook community. You'll meet many of our volutneers, and see lots of tidbits, photos and videos about our productions, actors and the theatre. Click on the Facebook badge to visit!
---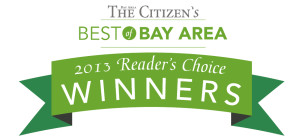 CCCT has been named the Bay Area's "Best Community Theater" by readers of the Bay Area Citizen for five years in a row! Many thanks to our patrons and readers of the Bay Area Citizen for your continued support.
---