Sherlock Holmes and the Ice Palace Murders opens October 19th at CCCT. In 1896, the Winter Carnival is in full swing, but St. Paul's wealthiest man has lost his head—literally. A young man disappears just before his wedding, and his fiancée has already given back her wedding dress. When a gruesome discovery is made in the Ice Palace, there's only one man for the job. Sherlock Holmes is summoned to solve a mystery that's hardly elementary. With the help of trusty Watson and Irish barkeep Shadwell Rafferty, it's up to Holmes to track a cold-blooded killer from the icy streets of St. Paul to the frozen Mississippi River. Arriving on the eve of the Winter Carnival, Holmes finds suspects aplenty, from a bride with a secret, to a drunken night watchman, a cross-dressing thief and a spurned lover. Sherlock Holmes and the Ice Palace Murders is a mystery that will keep you guessing until the very end.
Opening night, complete with complimentary reception is Friday, October 19th. Performances are Fridays and Saturdays at 8:00pm and Matinees on Sundays at 2:30pm. Remember, our BYOB policy allows you to bring your own wine and beer. For a modest corkage fee, we'll open the bottles and supply two glasses or frosty mugs. So grab your friends, grab a bottle of your favorite beverage and have a great night out! Call 281-335-5228 for reservations or buy tickets online at our virtual box office.
---

If You Love Community Theatre, visit CCCT's YouTube Channel. You'll find directors talking about their shows, actors discussing their characters, and skilled "behind the scenes" artists demonstrating their craft.
---

CCCT has a very active Facebook community. You'll meet many of our volutneers, and see lots of tidbits, photos and videos about our productions, actors and the theatre. Click on the Facebook badge to visit!
---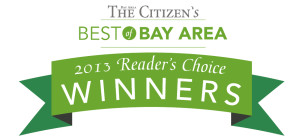 CCCT has been named the Bay Area's "Best Community Theater" by readers of the Bay Area Citizen for five years in a row! Many thanks to our patrons and readers of the Bay Area Citizen for your continued support.
---