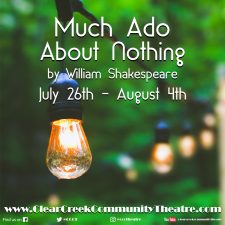 Love is love is love and Shakespeare knew it. Although best-known for the "merry war" of wits between Benedick and Beatrice, Much Ado About Nothing offers a grand celebration of love and relationships in their many forms. Scandal, lies, courtship and the chaos created in pursuit of true love, it's all here in this perfect romantic comedy for the summer.
Don't miss it. Shakespeare in the Summer, in air conditioning! Click here to buy tickets now!
---
50 years ago this summer man landed on the moon. Before that those Apollo astronauts and their wives were Clear Creek Community Theatre volunteers! As we launch our 55th season and celebrate the anniversary of the lunar landing, this is your chance to take advantage of early bird bonuses on our season passes and CCCT membership!

If You Love Community Theatre, visit CCCT's YouTube Channel. You'll find directors talking about their shows, actors discussing characters, & skilled "behind the scenes" artists demonstrating their craft.
---

CCCT has a very active Facebook community. You'll meet many of our volutneers, and see lots of tidbits, photos and videos about our productions, actors and the theatre. Click on the Facebook badge to visit!
---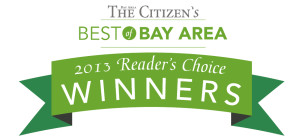 CCCT has been named the Bay Area's "Best Community Theater" by readers of the Bay Area Citizen for five years in a row! Many thanks to our patrons and readers of the Bay Area Citizen for your continued support.
---