---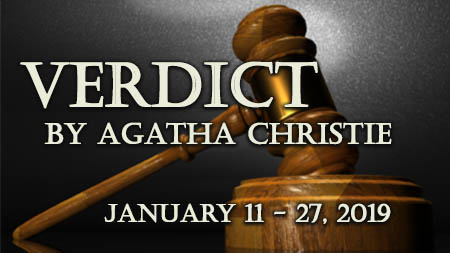 Clear Creek Community Theatre kicks off 2019 with Agatha Christie's brilliant play Verdict.
Karl Hendryk, a brilliant professor who, with his wife and her cousin, have fled persecution in their homeland to find themselves ensconced in London. The play concerns itself with the relationships the professor has with the women in his life. His wife, Anya, who is suffering from a progressively debilitating disease, her cousin and carer, Lisa, and Helen Rollander, a spoiled student who takes up private lessons with the professor.
Dame Agatha described the play as follows ~
"It was not a detective story or a thriller. It was a play that concerned murder, but its real point was that an idealist is always dangerous; a possible destroyer of those who love him – and poses the question of how far you can sacrifice, those you love, for what you believe in."
One of only a few Christie plays written directly for the stage and not adapted from an underlying story, Verdict opened in the West End at the Strand Theatre in May 1958.
"It satisfied me completely. I still think it is the best play I have written, with the exception of Witness for the Prosecution." ~ Agatha Christie
Verdict opens Friday, January 11th. complete with complimentary reception after the peformance. Verdict is on stage Fridays and Saturdays at 8:00pm and Matinees on Sundays at 2:30pm through January 27th. Please call 281-335-5228 for reservations or buy tickets online at our virtual box office.
For more details about the production and cast, please read the Chronicle's interview with director Aprille Meek.
---
Clear Creek Community Theatre is planning our 55th season. We are now accepting submissions from directors who would like to participate in the 2019-2020 season. Please click on the play submissions button for more details. The submissions deadline is January 13th, 2019.
---

If You Love Community Theatre, visit CCCT's YouTube Channel. You'll find directors talking about their shows, actors discussing characters, & skilled "behind the scenes" artists demonstrating their craft.
---

CCCT has a very active Facebook community. You'll meet many of our volutneers, and see lots of tidbits, photos and videos about our productions, actors and the theatre. Click on the Facebook badge to visit!
---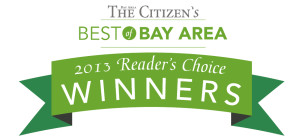 CCCT has been named the Bay Area's "Best Community Theater" by readers of the Bay Area Citizen for five years in a row! Many thanks to our patrons and readers of the Bay Area Citizen for your continued support.
---