---
Opening April 5th at CCCT, Ken Ludwig's farce, "Leading Ladies, uses mistaken identities, letter mix-ups and abundant double entendres."
In this hilarious comedy by the author of Lend Me A Tenor and Moon Over Buffalo, two English Shakespearean actors, Jack and Leo, find themselves so down on their luck that they are performing "Scenes from Shakespeare" on the Moose Lodge circuit in the Amish country of Pennsylvania. When they hear that an old lady in York, PA is about to die and leave her fortune to her two long lost English nephews, they resolve to pass themselves off as her beloved relatives and get the cash. The trouble is, when they get to York, they find out that the relatives aren't nephews, but nieces! Romantic entanglements abound, especially when Leo falls head-over-petticoat in love with the old lady's vivacious niece, Meg, who's engaged to the local minister. Meg knows that there's a wide world out there, but it's not until she meets "Maxine and Stephanie" that she finally gets a taste of it.
Leading Ladies is on stage at CCCT April 5th through April 21, 2019 with our complimentary reception on opening night. Performances are at 8:00 PM on Fridays and Saturdays and 2:30 PM on Sunday afternoons.
Reservations may be made through the box office at 281-335-5228 and tickets are available in advance from our virtual box office.
BUY "LEADING LADIES" TICKETS NOW
---

If You Love Community Theatre, visit CCCT's YouTube Channel. You'll find directors talking about their shows, actors discussing characters, & skilled "behind the scenes" artists demonstrating their craft.
---

CCCT has a very active Facebook community. You'll meet many of our volutneers, and see lots of tidbits, photos and videos about our productions, actors and the theatre. Click on the Facebook badge to visit!
---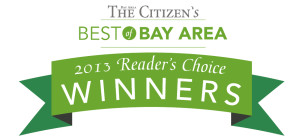 CCCT has been named the Bay Area's "Best Community Theater" by readers of the Bay Area Citizen for five years in a row! Many thanks to our patrons and readers of the Bay Area Citizen for your continued support.
---