It's Four Days Before Christmas in the tiny town of Tinsel, Texas, and a colorful parade of eccentric guests arrive at the Snowflake Inn and deck the halls with holiday hilarity. Trina, the harried yet upbeat innkeeper of this B&B, has more than she can handle coping with these nuttier-than-a-fruitcake lodgers. Hoyt and his sister, Donna Jo, make the mistake of trying to end a thirty-year feud between their curmudgeonly aunts, Ennis and Della, with sidesplitting results. Ainsley and Lenora, self-involved actors from a lower-than-low-budget touring production of A Christmas Carol, descend on the Inn to fulfill a promise, leaving comedic chaos in their wake. Add to this Yuletide mayhem an ill-advised romantic rendezvous between Mrs. Claus and one of Santa's elves, a demanding guest who refuses to leave, not to mention a tipsy housekeeper, and it's clear it will take more than a kiss under the mistletoe to keep Trina's spirits merry and bright. But a spur-of-the-moment Christmas Eve wedding that brings together the fabulous Futrelle sisters—Honey Raye, Twink, Frankie and Rhonda Lynn—and their best friend, Raynerd, takes a surprising and delightful turn that leads to a laugh-'til-your-sides-ache climax, changing all their lives forever. You'll swear this family-friendly Jones/Hope/Wooten Christmas comedy is more fun than a joyride in a one-horse open sleigh!
CYBER MONDAY ONLY discounts are available online – $2.00 off adult, student and Senior tickets through midnight 12/2. Use the code: CYBERSNOW on checkout. Performances are held December 6th – 22nd at 8:00PM on Friday & Saturday nights with matinees on Saturday & Sunday, December 14, 15, 21 & 22 at 2:30PM.
Remember, our BYOB policy allows you to bring your own wine and beer. For a modest corkage fee, we'll open the bottles and supply two glasses or frosty mugs. So grab your friends, grab a bottle of bubbly and have a great night out! Call 281-335-5228 for reservations or buy tickets online at our virtual box office.

If You Love Community Theatre, visit CCCT's YouTube Channel. You'll find directors talking about their shows, actors discussing characters, & skilled "behind the scenes" artists demonstrating their craft.
---

CCCT has a very active Facebook community. You'll meet many of our volutneers, and see lots of tidbits, photos and videos about our productions, actors and the theatre. Click on the Facebook badge to visit!
---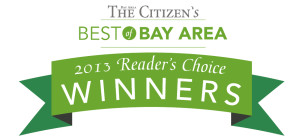 CCCT has been named the Bay Area's "Best Community Theater" by readers of the Bay Area Citizen for five years in a row! Many thanks to our patrons and readers of the Bay Area Citizen for your continued support.
---