Theatre with empty stage in spotlight. Red theater curtain and seats
Auditions. This Sunday and Monday, July 18th and 19th, at 7:00PM, CCCT will conduct auditions for the Rock Musical Hair by James Rado, Gerome Ragni, and Galt McDermott. Please click here for more details.
---
What is Kindful? Our regular giving program has been set up through Kindful – a platform designed to enable regular giving programs for nonprofit organizations like CCCT. This allows us to spend more time on our mission: to promote and present quality theatrical productions for the education, cultural growth and entertainment of the greater bay area community.
If you'd like help with our recurring costs by donating to CCCT on a regular basis, please click here. To learn more about the program or explore other ways you can support our theatre, please send an email to Heather Hughes, our fundraising chair. We appreciate every donation, no matter the size. Your contributions are fully tax deductible and because we are an all volunteer organization, every penny you give goes to keep theatre alive in the greater Bay Area. Thank you.
Clear Creek Community Theatre has just completed our first post-pandemic season. We are tremendously grateful to you, our loyal patrons, who came to our new home at the Bayou Theatre, and cheered our actors on as we carefully returned to the stage.
We're going to take a little time to plan our 2021/2022 season and will be reaching out to you soon with a full slate of exciting performances. To help defray our costs during this transitional time, we've established a monthly giving program. This recurring donation program enables our supporters to automatically donate a specific amount to CCCT on a weekly, monthly, quarterly, or annual basis.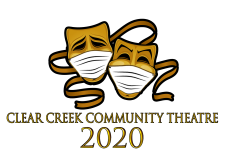 Governor Abbott has announced that performing arts are back, with all appropriate safety protocols. While our former building has come down, CCCT is all about creating great theater for the Houston Bay Area, regardless of venue. While we've all been staying safe at home, our actors have been working hard, preparing for our return to the stage. We will soon be announcing our new season and performance dates at our new home at UH's Bayou Theatre. Visit our website for details. Please stay healthy – we are looking forward to seeing you all again very soon.
If You Love Community Theatre, visit CCCT's YouTube Channel. You'll find directors talking about their shows, actors discussing characters, & skilled "behind the scenes" artists discussing their craft.
---

CCCT has a very active Facebook community. You'll meet many of our volutneers, and see lots of tidbits, photos and videos about our productions, actors and the theatre. Click on the Facebook badge to visit!
---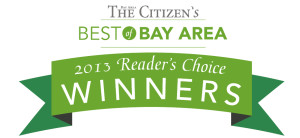 CCCT has been named the Bay Area's "Best Community Theater" by readers of the Bay Area Citizen for five years in a row! Many thanks to our patrons and readers of the Bay Area Citizen for your continued support.
---