CCCT Launches Streaming Performances
Opening Night – Saturday, November 14th!
While Coronavirus and social distancing have kept CCCT away from our beloved audiences, we are excited to announce our first performance on the virtual stage. Opening Saturday, November 14th, CCCT's production of Moonlight & Magnolias will be available to view in the safety and comfort of your home.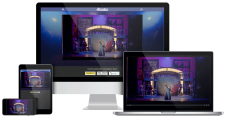 You can enjoy our digital performances in full high definition video on most devices including smartphones, tablets, laptops, desktops and game consoles. All you need is a web browser and an internet connection. You can connect your device to a big screen TV for a full at home theatre experience. Single and group viewing tickets are available.
About Moonlight & Magnolias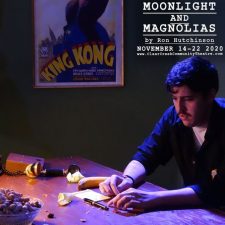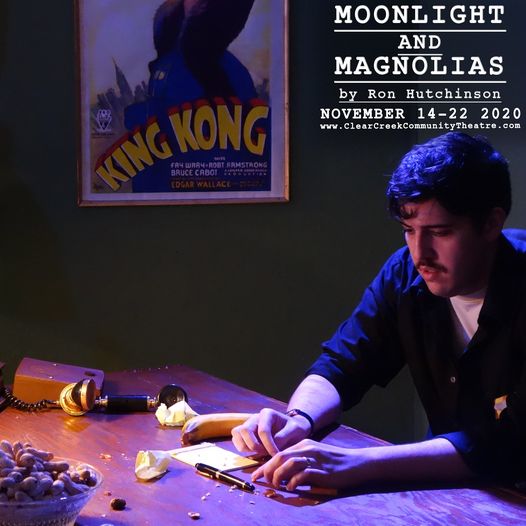 1939 Hollywood is abuzz. Legendary producer David O. Selznick has shut down production of his new epic Gone with the Wind. The screenplay, you see, just doesn't work. So what's an all- powerful movie mogul to do? Selznick sends a car for famed screenwriter Ben Hecht and pulls formidable director Victor Fleming from the set of The Wizard of Oz. Summoning both to his office, he locks the doors, closes the shades, and on a diet of bananas and peanuts, the three men labor for 5 days to create a screenplay that will become one of the most successful films of the 20th century.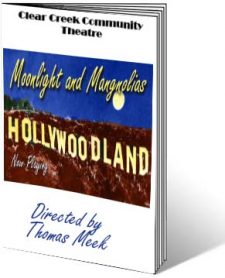 Moonlight and Magnolias is a fast paced comedy that dives headfirst into the (mostly) true story of the writing of Gone With the Wind's screenplay. To learn more about the production, click here to view the PLAYBILL.
As with all CCCT productions, Our first digital production is performed and produced by an entirely volunteer cast and crew. Your ticket purchases will help support CCCT until we can all meet again on stage and in person!
Tickets for this special streaming performance are available here. This production is included in your 2019/20 theatre membership. To learn how to use your season pass or to ask general questions, please email us at streaming@clearcreekcommunitytheatre.com.
To learn more about our streaming media platform and how to use it, please visit our FAQ here.
---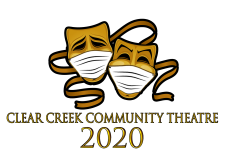 Governor Abbott has announced that performing arts are back, with all appropriate safety protocols. While our former building has come down, CCCT is all about creating great theater for the Houston Bay Area, regardless of venue. While we've all been staying safe at home, our actors have been working hard, preparing for our return to the stage. We will soon be announcing our new season and performance dates at our new home at UH's Bayou Theatre. Visit our website for details. Please stay healthy – we are looking forward to seeing you all again very soon.
---

If You Love Community Theatre, visit CCCT's YouTube Channel. You'll find directors talking about their shows, actors discussing characters, & skilled "behind the scenes" artists discussing their craft.
---

CCCT has a very active Facebook community. You'll meet many of our volutneers, and see lots of tidbits, photos and videos about our productions, actors and the theatre. Click on the Facebook badge to visit!
---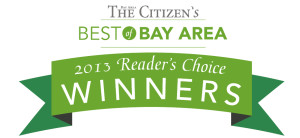 CCCT has been named the Bay Area's "Best Community Theater" by readers of the Bay Area Citizen for five years in a row! Many thanks to our patrons and readers of the Bay Area Citizen for your continued support.
---
---