CLUE
Four Performances Remaining – March 4, 5, 6, & 7
Clue is now on stage at Clear Creek at The Bayou. Based on the screenplay by Jonathan Lynn, Written by Sandy Rustin with additional material by Hunter Foster and Eric Price, Clue is a stage play of murder and blackmail, based broadly on the Hasbro board game, and the Paramount motion picture of the same name.
Clue is a hilarious farce-meets-murder mystery. The tale begins at a remote mansion, where six mysterious guests assemble for an unusual dinner party where murder and blackmail are on the menu. When their host turns up dead, they all become suspects. Led by the Wadsworth – the butler, Miss Scarlett, Professor Plum, Mrs. White, Mr. Green, Mrs. Peacock and Colonel Mustard race to find the killer as the body count stacks up. Clue is the comedy whodunit that will leave both cult-fans and newcomers in stitches as they try to figure out…WHO did it, WHERE, and with WHAT!
Ticket's may be purchased through our on-line box office or you may request tickets by calling the reservation line at 281-335-5228 and leaving a message. As part of our Covid-19 protocols, all seating will be assigned. Seating preferences will be on a first come, first served basis with assignments being made to accomodate social distancing. Tickets will be limited to 125 seats per performance to provide adequate spacing between groups.
---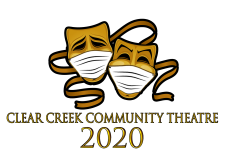 Governor Abbott has announced that performing arts are back, with all appropriate safety protocols. While our former building has come down, CCCT is all about creating great theater for the Houston Bay Area, regardless of venue. While we've all been staying safe at home, our actors have been working hard, preparing for our return to the stage. We will soon be announcing our new season and performance dates at our new home at UH's Bayou Theatre. Visit our website for details. Please stay healthy – we are looking forward to seeing you all again very soon.
If You Love Community Theatre, visit CCCT's YouTube Channel. You'll find directors talking about their shows, actors discussing characters, & skilled "behind the scenes" artists discussing their craft.
---

CCCT has a very active Facebook community. You'll meet many of our volutneers, and see lots of tidbits, photos and videos about our productions, actors and the theatre. Click on the Facebook badge to visit!
---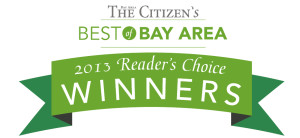 CCCT has been named the Bay Area's "Best Community Theater" by readers of the Bay Area Citizen for five years in a row! Many thanks to our patrons and readers of the Bay Area Citizen for your continued support.
---
---
---