Love live theater? Interested in directing? This could be your chance!
We would love for you to submit a play or musical to direct at Clear Creek Community Theatre,
We are looking for directors for our upcoming 20/21season. Proudly serving the Houston/Bay Area for over 55 years, Clear Creek Community Theatre will be performing in a different venue and we want you to think BIG!! BIG shows, BIG musicals, BIG FUN!! (But don't let that limit your choices)
You'll be working with talented actors, technicians, and other creative people, to bring some wonderful theatre moments to life! We plan to continue to produce comedies, mysteries, dramas, a musical and would love to consider new works as well.
Please submit your choice(s) on the link provided. Our Artistic Committee will review all the submissions to select the new season.
Thank you for joining us to keep LIVE theatre in the Bay Area!
#lovelivetheatre #ccctheatre
Clear Creek Community Theatre is a non-profit all volunteer organization, founded in 1964, proudly presenting quality performances in the Bay area and drawing directors, actors and audience from the entire greater Houston area.
If you'd like to be considered to direct, but do not have a show in mind, there is an option to submit for directing only. Priority will be given to directors who submit at least one play with their submission.
The submissions deadline is February 15, 2020. Late submissions will not be considered. We are looking forward to hearing from you. If you have questions please email artistic committee chair Michelle Robinson.
Please click below to continue.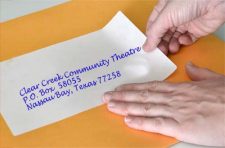 If you prefer to submit by mail:
Guidelines
In your submission(s) we request the following:
A resume of your directorial and other theatrical experience

A proposal that features:

Your concept/vision for a production, e.g. period, style, etc.

Ideas on production elements, i.e. set, costumes, lighting, sound or other special effects (we do not require actual set drawings or lighting plots)

Any other items

Two (2) copies of each script submitted.

You may submit proposals for up to 3 shows.
Mail submissions to:
Clear Creek Community Theatre
P.O. Box 58055
Nassau Bay, Texas 77258
---
For your Information
For our 2020/21 season, Clear Creek Community Theatre will be leaving our space in Nassau Bay and relocating to a nearby 400 seat venue. Details will be announced soon. CCCT presents 7 full stage productions and 2 youth apprentice programs annually, as well as a summer Shakespeare production. Performances are Friday and Saturday at 8 PM, Sunday at 2:30 PM over a 3 weekend run. Also, we have our own set construction area, storage, costumes, props and many stock set pieces.