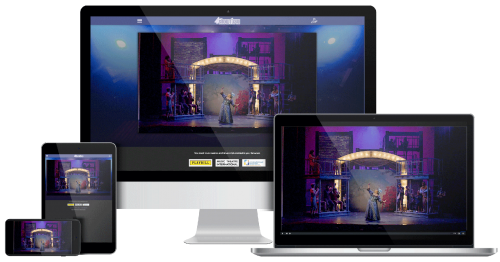 Clear Creek Community Theatre is pleased to announce the addition of streaming video to our performance offerings. Now you can attend live events or watch pre-recorded presentations from the comfort and safety of your own home. Our digital performances are presented in full high-definition video. You may watch our programs on most devices including smartphones, tablets, laptops, desktops and game consoles. All you need is a web browser and a device connected to the internet. With the right cables or a wireless connection, you may also connect your device to a big screen TV for a complete at home theatre experience.
For paid performances, single and group viewing tickets are available. The purpose of this page is walk you through the process of buying your digital event ticket and explain your viewing options. Here's how it all work

When you click on a "buy ticket" link, you'll be taken to our streaming media platform "ShowTix4U" where you'll be offered a list of current CCCT programs. The page will clearly be identified as Clear Creek Community Theatre and provides a fully secure credit card payment system.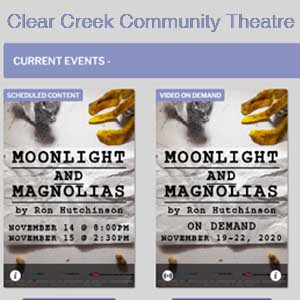 You'll be offered tickets for specific performances by date and time or "on demand" presentations that you can watch at a time that is most convenient for you. Please note that on demand tickets will only be available on certain dates. When you select the show you are interested in and complete your purchase, an email will be sent to the email address you used when making your purchase. BE SURE TO CHECK YOUR SPAM FOLDER IF YOU CANNOT FIND THE EMAIL FROM SHOWTIX4U.
The email has a big blue button link you can click to go watch the show. Or you can just click here: www.ShowTix4U.com/stream, and then use the access code provided in the email. Here's what a sample email looks like (yellow highlighting added to show the access code):
For a Live Stream or Scheduled Content event (events with specific date and time), you can use your access code up to 1 hour prior to the event until the end of the event. You can not rewind or rewatch the stream.
For Video On Demand (an event with no specific date/time), you can use your access code anytime between the Public Sale Start and Box Office Sale End, and your Access Code is valid for 48 hours from the first time it is entered/used. Please note the 48 hours will be reduced if you do not watch 48 hours prior to the end of the watch period (sale end period). Video On Demand events allow you to rewind at any time.
You can Airplay or Cast the stream to a television using the following instructions: https://showtix4u.helpsite.com/articles/57964-streaming-your-event-to-a-television-tv

The player will attempt to auto choose the resolution based on your internet speed.If you are experiencing buffering, click on the gear icon of the player and lower the resolution of the stream.
This is a brave new world of performance for CCCT. We will do our best to make this process as straight forward as possible for you. But, as we all know, when humans and computers are involved, there may be occaisional glitches. If you encounter a problem that cannot be resolved through the Showtix4U help system, please email us at:
streaming@clearcreekcommunitytheatre.com.
We'll do our best to help. Thank you,
The CCCT Digital Media Team